Today having an ecommerce business is not a thing to ponder for ages, all you need is to think of it and get in few minutes. Which is why we see how thousands of startups solely dedicated to selling products online, and make nearly six-digit sales a year.How does this happen? Is it enough to have an e-store and list hundreds of product after which you only have to see how products fly away from the shelves? Not at all, there are hundreds of things that are need to manage.
From marketing, online presence to search engine optimisation, there is a lot to cope up with if you are genuinely willing to get the best out E-business. So, if you too count yourself as an E-commerce seller and willing to give a boost to your business site to have potential customers, then we are going to share easy-peasy tips on search engine optimisation.
What's SEO?: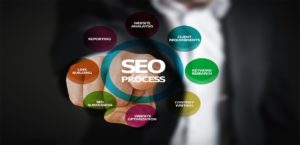 Google, Bing and Yahoo these popular search engines work over a formula that is based on a content algorithm. By means of SEO process, it helps your website to get better visibility in search engine results. Whenever we need to find any product, either we go to the particular online store,or we simply type on Google, for e.g. 'fine quality mobile cover case' and Google in response to this keywords shows results.
Let's say you too sell 'mobile case covers' on your store, and when you type 'mobile app case covers' on Google or Bing, it does not show your website in results. This will only happen when your site lack proper Key Word and other essential SEO approaches to help the potential audience to find your business online.
Why is SEO Essential for Ecommerce?:
Regardless of tons of products available online, SEO helps your websites to stand visibly. SEO help your target audience to find your website online when they look for particular products. If your products lack the sufficient amount of proper keywords(KW),it is practically affecting your site visibility and ranking.
Boost Your Site with these Tips!:
Rewrite Product Description:
Google and other popular search engines take every web page online very seriously. It is just not that easy to upload any product add KWs and wait for ranking to boost up itself. If you are willing to rank your website with quality standards, then make your ecommerce website content unique. It should not matches any other site content that has already been published.
So before you stress about hiring an SEO team, justlogin to your Website panel, open product page and find where your product description is mentioned. Make it user-friendly, and add relevant keywords which can easily find on Adword keyword planner (free) to see which type of KW are essential to add to the description. To check either, your content is pure and not plagiarise dopt for Small SEO Tool where you can check your content uniqueness for free.
Responsive Website:
If your ecommerce site does not fit on mobile and iPad properly, it is already noticed by Google. Search engines love a responsive website that is easy to access from all type of devices. Regardless how attractive your site may appear on the PC if it is not behaving well on different size of screen it is not only affecting on your site ranking but also repelling customers from your site. According to research, 125 million people use a smartphone in the US out of these 62% people purchase online. Whether your business is the US or in Asia, each of us today relies upon our cellphone to quickly search about the products we need even if it just about checks the sales offer we opt for either site or mobile app. Since the ration of mobile ecommerce is growing rapidly, we would also recommend to quick look for complete ecommerce web and app solutions providers which can help you boost sales with good margins.
Maintain URL of Products:
Broken links, empty pages and improper layout these three elements eat up your profit margin discreetly. It stops search engines spiders to crawl on your site and ultimately affect SEO function of indexing your website page. To check the quality of the site links you can find free broken link checkers online and type your ecommerce store link to see if how many pages have broken the link. Once you find out the affected pages, you can fix them by going on to your panel and check the setting for the Post Link style and make it proper manually by adding the adequate title of the product page in the link.
Start Adding Product Videos:
The video is the best way to explain about your product in details without making it a hefty job to read details. Try to upload shorter and clearly defined video that will help visitors to understand how the product looks like in real life. You can mention benefits, size, price and features of the products as well. Make sure that you add relevant video content that is easy to share and have proper links. By videos, your site will engage more customers and help your site bring. Share the video on social media platform and do not forget to mention the relevant hashtags as well. Since a video on Facebook engages 165% more viewer than a picture,it is better to get the help from professional to prepare engaging video for your ecommerce website.
Bonus Tip!:
Besides the fact that SEO helps to rank your site better which eventually bring more traffic on site, get a high-end yet budget-friendly ecommerce mobile application development services that can boost sales up 60% just like Zara. Subsequently, the better your mobile app perform,the higher chances to earn more out of your ecommerce business.
Read More:
Manoar Molla is pro blogger who is passionate to write anything that is related to SEO, business and marketing. He has written and published many articles on different blog